January 18, 2022
Simmons Animal Nutrition Unveils New Website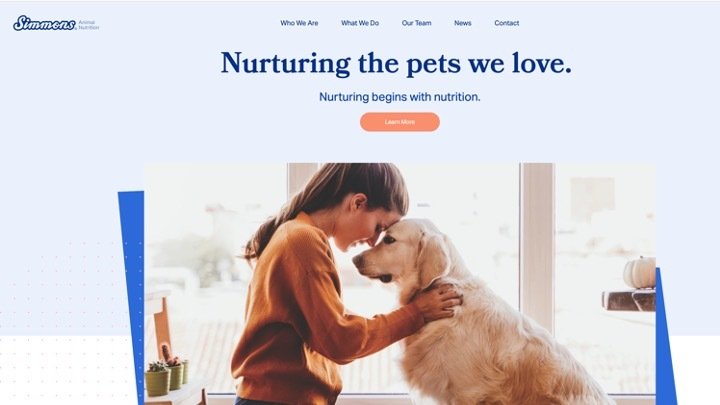 Siloam Springs, AR (January 18, 2022) - Today, Simmons Animal Nutrition unveiled a fully redesigned website at simmonsanimalnutrition.com. The new site was designed to reflect the company's vision to be the most trusted partner for high quality, tailored nutrition for top brands in the pet food, livestock feed and aquaculture industries.
James Smith, President of Simmons Animal Nutrition, says, "The new site better represents who we are, what we do and why we do it. We produce safe, healthy ingredients every single day. We believe deeply in the importance of quality nutrition for our pets, and this starts with our quality ingredients."
This vision coupled with an agile support network is propelling the company's dramatic growth. With production facilities strategically located across the U.S., Simmons Animal Nutrition produces ingredients that are included in over 6 billion meals each year.
Josh Clary, Vice President of Sales, says "Our multi-region network of world-class production facilities allows us to adjust and respond quickly to meet our customers' expectations, earn their trust and build strong relationships. Our service extends beyond a diverse portfolio of quality ingredients, we have a strong desire to nurture the pets we love and trust is foundational to our success."
---

About Simmons Animal Nutrition
Simmons Animal Nutrition produces high quality, tailored nutrition for the pet food, aquaculture and animal feed industries. From our beginnings as a producer of chicken-based protein products, the company has grown to become a leading supplier of diverse, proprietary ingredients. Simmons Animal Nutrition drives innovation across the entire supply chain including traceable sourcing, custom transportation, and quality control solutions.
Simmons operates multiple nutrition production facilities that include locations in Missouri, Arkansas, Pennsylvania and Delaware.